The South Yorkshire and Bassetlaw (SYB) Integrated Care System (ICS) has a long, rich history of training new recruits and current staff as part of our ongoing commitment towards strengthening our workforce.
Through our close partnership with Health Education England (HEE), we are regularly able to co-design and deliver events that upskill existing staff but also develop the future health and care workforce across SYB.
Whilst Covid-19 has certainly added additional strains across all areas of our workforce, we're really (really) proud of how quickly we have risen to these challenges – and how the ingenuity, innovation and adaptability of colleagues in health and care has been greatly assisted through high-quality and consistent workforce training and education programmes. Two great examples, of which, have taken place recently.
Firstly, the SYB Primary Care Practice Managers' Conference [Thursday 30th September] welcomed over 100 delegates to the Crowne Plaza, Sheffield, for its third annual gathering. The event included acclaimed guest speakers covering a wide variety of topical concerns and discussion points ranging from conflict resolution, Care Quality Commission (CQC) inspections, and 'The Art of Impossible', which is the much-lauded work of Stephen Kotler and his leadership theory concepts.
Naturally, these subjects started vibrant and curious conversations in small group activities, workshop breakouts and panel discussions. Ultimately, what this does is focus the collective minds on the issues that resonate most deeply across the room - and this is how we are able to shape good practice and learn from our shared experiences as part of our continuing professional development.
I'm also proud that we always take the opportunity to remind colleagues about looking after their own wellbeing. Brigitte Kaviani, Head of Health and Wellbeing for the SYB ICS, provided an engaging run-down of the wider offer that is available for staff – from counselling, to self-help through to themed webinars that colleagues can dip-in-and-out of. To showcase the quality provided by the Health and Wellbeing Hub, a taster session was put on and enabled attendees to get a feel for the wider programme.
Celebrating success is also a cornerstone of our work and it was truly humbling to see the award for the 'Inspirational Practice Manager' take place in which a short ceremony, in memory of the late Simon Kirby, Practice Manager at Ecclesfield Group Pracitce, Sheffield. As you can imagine, this was a special moment for everyone as everyone was able to recognise the sad loss yet also celebrate Simon's many achievements, posthumously.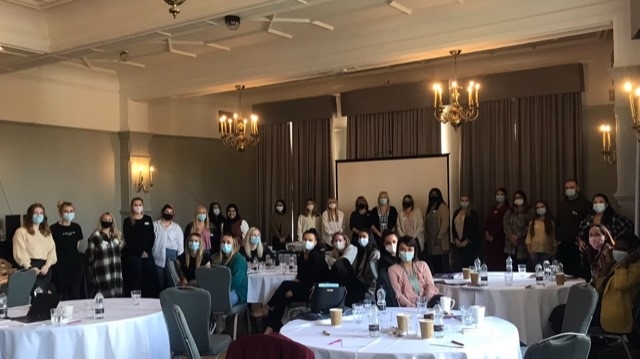 Secondly, workforce development is also about keeping a close eye on the future and this is why I believe the successful launch of our third Nurse Vocational Training Scheme (VTS) this week deserves special mention.
This year, we've had 28 nurses sign-up on the SYB programme, providing a unique occasion for the new nurses to meet our team (the Primary Care Workforce & Training Hub) but also the lead nurses who will also be supporting them in their respective placements.
For the unfamiliar, the VTS programme covers a range of important educational content based to support their understanding of the scheme (history of the programme, plans for the year, overview of the Primary Care Workforce & Training Hub), updating their knowledge about the current working landscape (within primary care, details about the mentorship (how it works/how to get the most out of the year) and also the necessary employment terms (via HR) which included how to use Microsoft Teams Hub - now a staple part of NHS communications.
It's truly fantastic that the CCGs in each Place have supported this programme and that practices have welcomed these nurses on six-month placements so that they can develop and consolidate their skills.
In fact, some of the nurses are now directly employed by practices which is a great investment in the nursing workforce and primary care for the future.
If this has piqued your interest in finding our more about workforce development or primary care in general, please contact me I'd be more than happy to help.