Race, Equality and Diversity - our aims
We're fully committed to improving Equality, Diversity and Inclusion (EDI) for patients, communities and staff across the South Yorkshire (SY) health and care system.
In line with the NHS People Plan, SY is progressing well with a number of EDI commitments, which were first proposed towards the end of 2020.
Aligned to NHS England and NHS Improvement's (NHSE/I) Workforce Race Equality Standards (WRES), we identified a number of key areas for action.
One of the key aims was to set-up a system-wide EDI Steering Group which is up-and-running with energy and commitment from all members.
With the introduction of NHS England's EDI Improvement Plan in June 2023, we are now also aligning our work to the 6 identified High Impact Actions: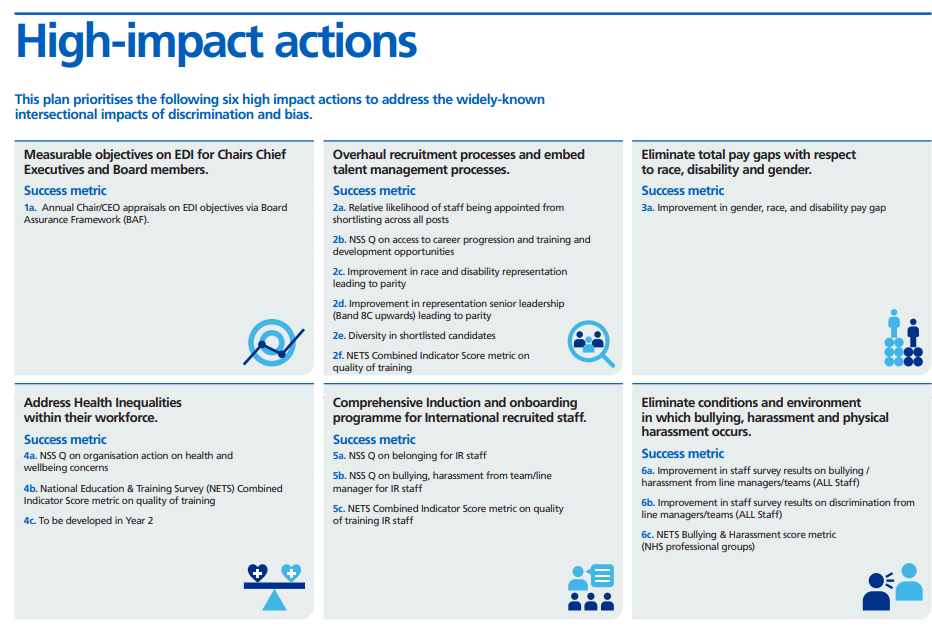 Achievements through 2021
One of the key aims was to set up a system-wide EDI Steering Group which is up and running with energy and commitment from all members. The EDI Project lead who works for South Yorkshire ICS meets monthly with all EDI Leads in NHS Trusts. Work commenced pulling together the great work of Trusts and CCGs [pre-2022] from across the region and implementing initiatives that made sense to 'do it once'.
South Yorkshire ICS developed a BAME talent management reciprocal mentoring programme, the Inclusive Cultures Programme, which commenced with its first cohort of aspiring and established leaders in September 2021.
In December 2021 South Yorkshire ICS successfully secured funding from NHS England to further the work of inclusive recruitment and practices and develop staff networks. This supported the work of the EDI Programme including delivering EDI-specific training, holding events to bring staff together from across the region and developing some valuable resources.
Achievements through 2022
We continue to work with colleagues and partners in the ICS to address Health Inequalities for all patients and residents, especially where protected characteristics have increased those inequalities.
We support the region's workforce and their health and wellbeing through the work of established EDI for HWB roles embedded in all NHS Trusts in the region.
We have brought together all Chairs of Race or Black Asian and Minority Ethnic (BAME) Networks across our partners and continue to explore how we link this group to the existing ICS leadership and governance structures.
Our focus on race equality issues remains in our Inclusive Cultures Reciprocal Mentoring Programme, with staff from minority ethnic backgrounds invited onto the programme as 'aspiring leaders', from across 5 partner organisations. [add link]
We are keen to address racism at a system level, linking with a clear 'Joint Commitment' in the Integrated Care Partnership Strategy to 'Identify, recognise and tackle systemic discrimination including a focus on anti-racism'.
We have continued to improve on system wide data collation building on existing reporting i.e. WRES, WDES, EDS2 etc. and have used this data to develop improvement plans.
We have worked with colleagues to develop Inclusive Recruitment and Promotion practices, for instance diverse representation on interview panels, reviewing job descriptions and increasing mentoring programmes. We have also introduced an Associate Non-Executive Members Programme to ensure a more diverse pipeline into these senior roles.
Partner organisations across South Yorkshire have also backed NHS England's (NHSE) Workforce Race Equality Standard (WRES) requirements. The WRES supports employees from black and minority ethnic (BME) backgrounds to progress within the NHS through equity of access to career opportunities and improved treatment in the workplace.
Building on the excellent work of the EDI Steering Group, through 2023 we will establish an Equality Diversity and Inclusion Executive Board to be chaired by the Independent Chair of ICB, to ensure the EDI agenda attains a high profile and engages senior-level input.
2023 and beyond
The EDI Leads group and colleagues working in Equality Diversity and Inclusion across South Yorkshire have achieved a huge amount during the year to increase Equality, embrace Diversity and ensure Inclusion, including;
Equality, Diversity, and Inclusion - High-Level Achievements 2022-2023
Established an EDI Co-Production Group that produced an EDI Workforce Strategy for 2023-2025
Recruitment into ICB Board improved to increase the diversity of membership and introduced an Associate INEM Scheme to ensure a diverse pipeline into these positions
Completed successful first cohort of the Inclusive Cultures Partnership reciprocal mentoring Programme and now planning Cohort 2
Ran a highly successful event celebrating women in leadership and established a quarterly Women Leaders Network Meeting for aspiring and established women leaders in health and social care.
Supported Staff Networks across NHS Trusts, developing resources and supporting the development of 5 new Staff Networks in the newly formed NHS South Yorkshire ICB.
Worked closely with EDI Leads to agree a system approach to EDS2022 reporting to ensure meet requirements of Public Sector Equality Duty across South Yorkshire.
South Yorkshire ICS – Workforce Equality, Diversity, and Inclusion
Development of South Yorkshire EDI Workforce Strategy
An EDI Co-Production Group was established March 22 with members joining from NHS Trusts, partners and the ICB across South Yorkshire. They oversaw the creation of an ICS Workforce EDI Strategy including a Shared Vision; Shared Principles and Shared Objectives and identified our Workforce Strategic Priorities for the next 2 years.
Extract from Workforce Strategic Priorities
Improving Inclusive Recruitment into Board-level Positions
EDI Co-Production Group worked with HR colleagues at the ICB to develop the recruitment process for ICB Board positions to increase diversity of representation - as a result, a new ethnically diverse Independent Non-Executive Member (INEM) was recruited.
In addition, we introduced an Associate INEM Scheme to allow for two candidates per year to develop into these INEM positions in order to create a more diverse pipeline into Board positions across South Yorkshire – we believe we are the first ICS in the country to do so. Candidates were encouraged to apply from diverse backgrounds. A message from Chair to applicants can be seen below:
Associate Independent Non-Executive Members Applicant Information Pack
Message from the Chair
Thank you for showing an interest in this role. I hope that the information in our pack encourages you to apply.
We are a new NHS body, established to oversee healthcare across South Yorkshire. After full open competition, we recruited a number of Independent Non-Executive members to the Board.
Having done so, though, I was conscious that some people who expressed an interest perhaps felt they needed more experience or were just unsure about applying. If you are one of those people, then this opportunity could be for you.
We want to appoint someone to work alongside our Board, offer their views, participate fully in our discussions, and gain real experience of an NHS Board to be in a stronger position to apply for a future role with us, or elsewhere within the NHS, over the next two years or so.
Please don't hold back. Your contribution could be very valuable, and we want to hear from you. Pearse Butler
Chair NHS South Yorkshire
Find out more about the NHS South Yorkshire Integrated Care Board Executive and Non-Executive Members.
South Yorkshire ICS Inclusive Cultures Partnership Programme
South Yorkshire ICS ran the first cohort of their successful Inclusive Cultures Partnership Reciprocal Mentoring Programme from September 21 to graduation in November 22. The programme increased the talent pipeline and career development of aspiring leaders from Black, Asian and minority backgrounds; increased the confidence of aspiring and established leaders as inclusive leaders; and to contributed to building a system-wide culture of inclusivity and respect across South Yorkshire.
"It isn't an understatement to say that this programme has been transformative for me personally, it is one thing as a white leader to be pre-disposed to support inclusion (many are in this bracket) but an entirely other thing to get off the side-line and get on the pitch with colleagues, to understand the issues, listen and take action. I can't thank this group enough for their honesty, patience, challenge and support you have opened my eyes to see what I am able to do to support all colleagues and also raise awareness to other white leaders on what they can do to increase their insight and lead better in this area."
- Established Leader Participant
Read more about our Inclusive Cultures Partnership Programme.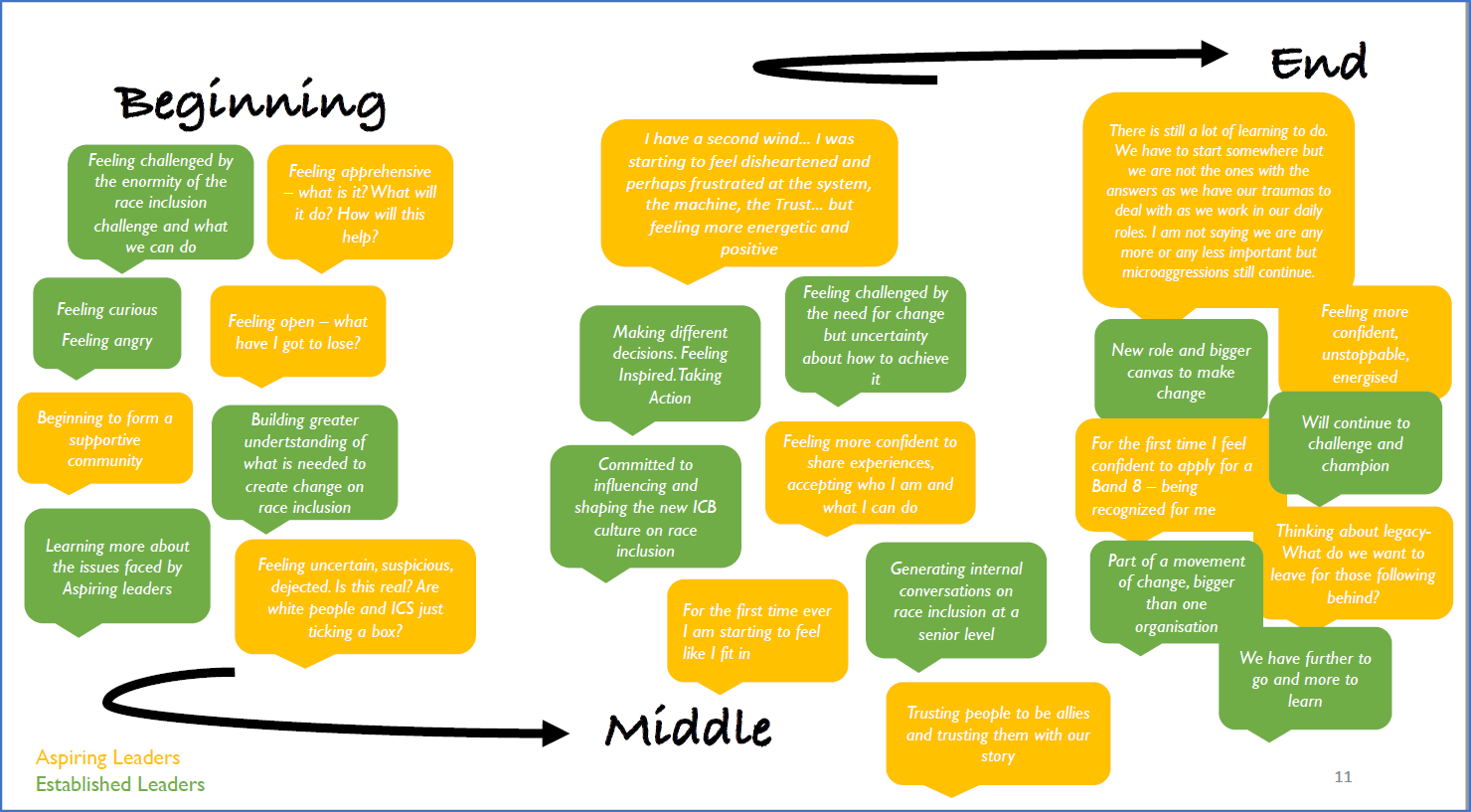 We are now planning for our next Cohort, with more NHS Trusts in South Yorkshire involved in 2023.