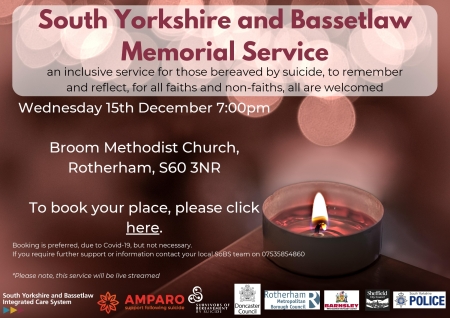 People from across South Yorkshire and Bassetlaw are being invited to a memorial service for those bereaved by suicide.
The inclusive service for all faiths and non-faiths is being organised by the South Yorkshire and Bassetlaw Integrated Care System (SYB ICS) and partners including third sector organisations Survivors of Bereavement by Suicide (SoBS) and Amparo, the local authorities and NHS organisations, and South Yorkshire Police.
Dianne Lee said: "Through this inclusive service we want to reflect and remember loved ones we have lost to suicide.
"I'm saddened to say that in South Yorkshire and Bassetlaw we have a higher suicide rate than the England average. The impact of suicide is complex, and the effects are profound; not only on the family and friends of the person who has died but also on the wider community.
"We want to come together to support those who have been effected and ensure no one feels alone in their grief.
"There will be a poem reading and an opportunity to light a candle and lay a photo of loved ones, in remembrance."
The service, taking place on Wednesday 15 December at 7pm, will be hosted at Broom Methodist Church in Rotherham and will also be live streamed: https://www.youtube.com/channel/UCsIFb9OPoES4T_mxQPSfVfQ.
Booking is preferred so that in the event of a cancellation organisers are able to let attendees know and so that Covid restrictions can be best accommodated, however walk-ins are also permitted.
Partners in the planning of the event SoBS* and Amparo** will be in attendance at the memorial for anyone who needs support during or after the service.
The service is the latest in a series of events organised by the SYB ICS which aim to reduce suicide rates in the region by 10 per cent, as well as improving the support for people living in the aftermath of suicide.
For more information and to sign up for the service, visit https://bit.ly/3x1Qr96
If you are suffering in the aftermath of suicide, or need to talk to someone, please contact SoBS/ Amparo/ Samaritans on 116 123 or visit the NHS website: https://www.nhs.uk/conditions/suicide/
*UK Charity Survivors of Bereaved by Suicide (SoBS) help break the isolation and meet the needs of those bereaved by suicide, providing safe, confidential spaces where people who have been bereaved by suicide can share their experiences and feelings, giving and gaining support from each other. Their services are run by volunteers, the majority of whom have been bereaved by suicide themselves.
**Amparo means 'shelter' or 'safe haven' in Spanish and provides support for anyone affected by suicide. Amparo is completely confidential and can provide short-term or longer-term support. Support can be provided one-to-one, to family groups, groups of work colleagues.