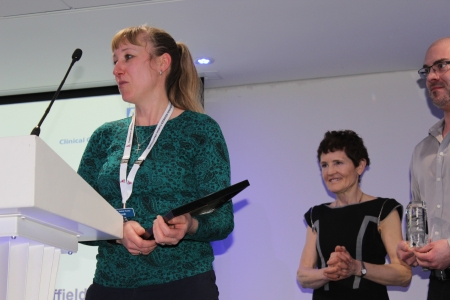 The Sheffield Practice Nurse and Health Care Assistant Awards will this year be honouring those who have gone above and beyond what has been expected of them during the covid pandemic.
The awards, organised by NHS Sheffield Clinical Commissioning Group, are open to the public to vote for a nurse, healthcare assistant or nursing team that works in a GP practice and has provided exceptional service and patient care.
This year, there will be a new category, 'above and beyond', that will be given to a team or person who has gone that extra mile to support people against the odds in a year dominated by the coronavirus.
Since the outbreak, primary care staff have continued to see patients face to face as well as providing phone and video consultations to those who were shielding. Their workload has been immense, and they have administered the majority of the covid vaccinations in Sheffield's successful vaccination programme which has seen over 300,000 people receive their jab, so far. Many of them have worked weekends on top of their normal working week and continue to do so.
Members of the public and NHS staff are being encouraged to recognise their achievements in providing patient care. There are seven categories and anyone can vote.
In 2020, the award for leadership in primary care was given to Sarah Fisher, Lead Nurse at Sloan's Medical Centre. She said: "Receiving this award was an amazing moment in my career. It completely uplifted me and made me realise the impact I had at work, when I didn't realise it! It was wonderful to hear the lovely feedback and reason for the nomination from my colleagues. I would encourage everyone to take a few minutes to nominate someone, as I know how much it would mean to them particularly at a time when my colleagues are working even harder than usual to keep people healthy and safe."
Alun Windle, Chief Nurse and Covid Vaccination Lead at NHS Sheffield Clinical Commissioning Group, said: "This often unsung workforce is the backbone of primary care and we are looking forward to celebrating at the Sheffield Practice Nurse and Health Care Assistant Awards. The CCG awards celebrate the amazing contributions that practice nurses and health care assistants in general practice make in the delivery of excellent patient care every day. Thank you to each of you. This year we welcome nominations, in seven award categories, from members of the public for the nurses and healthcare assistants in your GP surgery who have made a difference or exceeded your expectations."
Details about the nominations can be found here https://sheffieldnurseawards.uk/
The deadline for nominations is 25 June and you can vote here