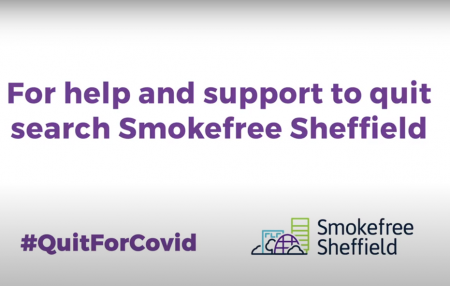 In recent weeks, Sheffield's stop smoking service Yorkshire Smokefree Sheffield has seen a 53% increase in the number of people getting in touch for support to quit. This follows news that nationally over half a million people have made a quit attempt since the COVID-19 outbreak.
Smokefree Sheffield has been raising awareness of the risks of smoking and COVID-19 through its support of the national #QuitForCovid campaign. Since the launch of the campaign in April, there has been a surge in people visiting the smokefreesheffield.org website to find advice and support.
To encourage even more people to make a quit attempt, a new advert has been created to remind people about the significant health benefits of quitting. Launched recently in support of World No Tobacco Day (31st of May,) the advert was shown on the ITV Hub, Hallam FM and social media and will run for six weeks.
"Smoking is still the biggest killer in Sheffield and smoking cessation remains a public health priority. There is very clear evidence that quitting smoking rapidly reduces your risk of a range of life-threatening illnesses. Quitting smoking is the best thing any smoker can do to improve their health. This new advert is set to reach over 100,000 people in the city with this very important message and we hope it will encourage more people to reach out to our stop smoking service." said Greg Fell, Director of Public Health in Sheffield.
Smokers are at risk of a range of serious health problems requiring them to need treatment from the NHS. Quitting reduces both the likelihood of disease and hospital admission.
In addition, smoking harms the immune system and can make the body less successful at fighting disease and infections such as COVID-19, while the repetitive hand to mouth movement provides an easy route of entry, putting smokers at greater risk of contracting the virus.
Quitting smoking quickly improves your circulation and your breathing and improves mental health. It also reduces that individual's risk of other health problems such as heart attacks and strokes, which reduces the need for hospital treatment for these conditions.
Mary Lea, Cabinet Member for Parks and Culture said, "We want people to know that they don't have to quit alone. Sheffield's stop smoking services are very much open for business and ready to help you. While face-to-face appointments have been suspended, you can still get a full range of support over the phone and online. You're three times more likely to quit successfully with the right support, so please get in touch.
Even if you've tried to quit before, please give it another go because you can do it. Most smokers try several times before they succeed, but getting the right support and using a quitting aid, like Champix, NRT or e-cigarettes, to help ease the cravings gives you a much better chance of success."
Get in touch with Yorkshire Smokefree Sheffield #QuitForCovid today:
0800 612 0011 FREE from landlines
0330 660 1166 FREE from most mobiles
Or request a callback at sheffield.yorkshiresmokefree.nhs.uk
Visit smokefreesheffield.org for more information about quitting for covid.
Follow Smokefree Sheffield on Twitter @smokefreesheff and Facebook searching 'Smokefree Sheffield' for news, updates and inspiration.