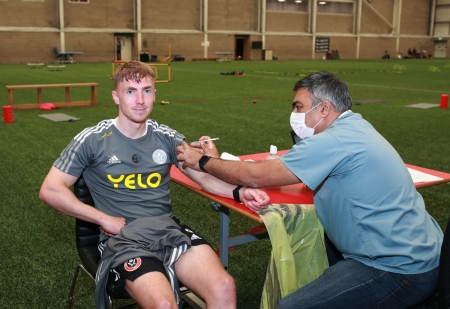 Sheffield United Football Club is opening its doors to Sheffield residents to get their covid jab.
The stadium at Bramall Lane will be playing host to a walk-in vaccination clinic on Saturday 10 July from 9 am.
Sheffield United chief executive, Stephen Bettis, commented: "It is fantastic that Sheffield, as a city, has been at the forefront of the nationwide vaccination rollout and here at Sheffield United we are delighted that we can play a part with a pop-up centre at Bramall Lane. We hope that Blades fans and the wider community take advantage of the initiative."
The drop-in clinic is open to anyone, aged 18 or over, who has yet to have their first or second dose of the Pfizer or Astra Zeneca vaccine. In line with national guidelines, second doses of both vaccines will be available to people who had their first dose a minimum of 8 weeks ago.
More than 373,000 Sheffielders have now received their first vaccination and 55% have received both. However, only 73% of people aged 40 – 59 have had the second vaccination, in comparison to 93% of people aged over 60.
Alun Windle, Chief Nurse and COVID Lead at NHS Sheffield CCG, said: "I'd like to thank the club for agreeing to be part of our network of drop-in clinics that have so far taken place, in some of the city's iconic locations.
"I hope that people who have yet to have either of the doses will make the effort to come to the ground which is close to the city centre. We really need people who have not yet had their second dose of the Astra Zeneca vaccine to come forward. Two doses, after an 8 to 12 week interval, offer the maximum protection against the virus and can reduce transmission. I would appeal to anyone in the 40 to 50 age group to come forward and have their second dose as it's the only way they can protect themselves and those around them."
The latest data from Public Health England suggests that nationally the vaccination programme has prevented between 6.4 and 7.9 million infections and 26,000 and 28,000 deaths in England alone.
People who are currently not registered with a local GP are welcome to attend the walk-in clinic at the SUFC walk-in clinic although registering with a GP is always advised. No appointment is needed and anyone who qualifies can turn up at the Cherry Street entrance of the ground. The vaccination team, from Manor and Park Group Practice, will kick off their session at 9am and people will not be allowed in from 2pm.