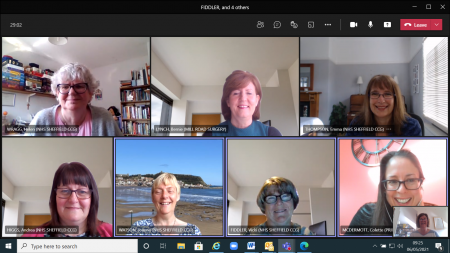 A team of nurses from NHS Sheffield Clinical Commissioning Group (CCG) have been given a Chief Nursing Officer Silver Award by NHS England and Improvement.
The primary care development nurse (PCDN) team from Sheffield CCG were nominated for the enormous range of skills, expertise and clinical leadership they demonstrate. As well as for their role in setting up a covid-19 testing service last year.
The team were presented their award by Hilary Garratt CBE, Deputy Chief Nursing Officer at NHS England and Improvement, on behalf of Ruth May, Chief Nursing Officer, at a virtual staff event on 5 May.
Alun Windle, Chief Nurse at NHS Sheffield CCG, said: "I'm so proud of the team, it is great that they have been recognised in this way. They are exceptional role models and their work has demonstrated an improvement in patient care and service provision. The team are involved in a wide range of areas both clinical and non-clinical.
"They regularly come up with fresh ideas to challenge how patients are managed as well as supporting Sheffield general practice nurses and primary care teams. They have been described as one of the CCG's best kept secrets and I agree!"
The team includes Sarah Bentley, Vicki Fiddler, Andrea Higgs, Kate Tighe, Bernie Lynch, Kathryn Heap, Dianne Judge, Tracey Turton, Jo Watson, Emma Thompson, Helen Hibberson and Colette McDermott.
Although not a nurse and not eligible for Chief Nursing Officer award, the PCDN team business manager, Helen Wragg, was also awarded a certificate by the CCG in recognition for the integral role she plays in the team.
Hilary Garratt CBE, Deputy Chief Nursing Officer at NHS England and Improvement, said: "I am delighted to have been able to present this award. Chief Nursing Officer Awards are awarded to teams that are outstanding in their field. The PCDN team is a very innovative team and I am aware of all the great work they do day to day. It's clear that the team has raised the profile of general practice nurses and primary care, particularly through the general practice nurse awards that they set up and deliver each year. Well done to everyone in the team."
Vicki Fiddler, Primary Care Development Nurse at the CCG said: "Winning the Silver Chief Nursing Officer award is an honour. I came into nursing later in life with the sole purpose of improving patient care.
"I have worked within the PCDN team for 7 years now and it continues to be a privilege to work with amazing people. Working in such a supportive team enables us to think outside of the box and come up with innovative ideas to support practice staff and help improve patient care."
Emma Thompson, Lead Primary Care Development Nurse at the CCG, added: "I'm so pleased that the whole team have been nominated in this way. As well as our day to day roles, over the last year our team have played a big part in the response to covid-19. We helped set up and deliver the staff covid testing service, supported the quality assurance of the covid vaccination sites and most recently some members of the team have supported the vaccination clinics. I'm so proud of us all for these achievements."
Once social distancing measures are relaxed the team will be given a badge and certificate at a face to face meeting with CCG staff.