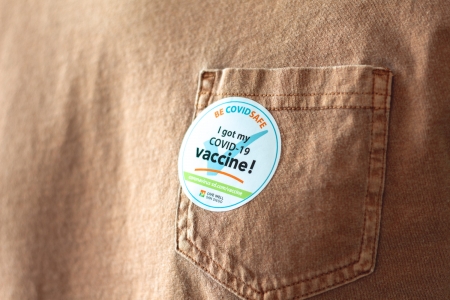 A pop up vaccination clinic is being held in a black majority church to reach people from Sheffield's Black African and Caribbean communities who are yet to have their covid vaccination.
According to the Office for National Statistics, black or black British adults were most likely to report vaccine hesitancy when compared with white adults.
Whilst half the Black African and Caribbean communities in Sheffield have had their vaccination, the uptake is currently at 50%, this is still lower than the Sheffield average.
The drop in clinic is being held at the Church of God of Prophecy, 123-131 Duke Street S2 5QL on Friday 11 June, 2.30pm – 5pm. The clinic is hosted in partnership with Manor and Park Group GP Practice, SACMHA Health and Social Care (an African Caribbean-led adult social care provider), Manor and Castle Development Trust, Public Health Sheffield and NHS Sheffield Clinical Commissioning Group (CCG).
Vaccinations will be offered on a walk in basis, anyone over the age of 24 who has yet to have their first covid vaccination can simply turn up and be vaccinated. People with long term conditions, carers or health and social care workers aged 16 and over can also attend the clinic.
Alun Windle, Chief Nurse and Covid Lead at NHS Sheffield CCG, said: "Sadly we know that people from Black African and Caribbean and other ethnic minority backgrounds are disproportionately affected by covid-19 and will suffer more severe effects if they catch the virus. Therefore we must ensure everyone is vaccinated. The clinic is open to everyone, if you've yet to have your first vaccine and you're in the eligible groups please come along on Friday, particularly if you're black or African Caribbean."
The clinic is being held in a black majority church to reach members of the Black African and Caribbean communities in Sheffield but the clinic will give vaccines to anyone eligible who turns up, including those seeking asylum and refugees.
David Bussue, Service Director at SACMHA Health and Social Care said: "SACMHA has formed a really positive and valued relationship with most of the black majority churches in Sheffield as a means of gaining access to a significant part of the African Caribbean community in Sheffield. This relationship has yielded many benefits for Sheffield as we navigate our way through and hopefully out of this pandemic". He concluded: "This vaccine clinic based at a trusted site for our community is just another way of reinforcing the importance of getting vaccinated."
Christine Madden, Senior Pastor at Duke Street said: "I'm a nurse by training and have had both of my vaccines. Duke Street has benefitted from its relationship with SACMHA and the other local partners working on this clinic initiative. The majority of our seniors have had both their vaccines and I see it as my role, both as a nurse and a pastor to encourage people to take the best care of themselves, the vaccine, in my view is one element of that approach."
If you're unable to attend the clinic but still need your vaccine, visit www.nhs.uk/covid-vaccination or contact 119 to book an appointment, there are a number of locations across Sheffield to choose from.