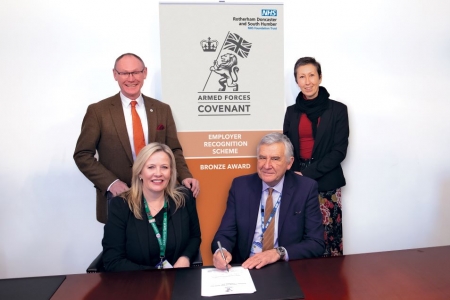 A Yorkshire and North Lincolnshire health trust has pledged its commitment to support armed forces' veterans, reservists and their families.
This week the Chief Executive of Rotherham Doncaster and South Humber NHS Foundation Trust (RDaSH), Kathryn Singh, together with Chairman Alan Lockwood, made a formal commitment to Britain's military by signing the Armed Forces' Covenant.
They were also presented with a Bronze Award under the Government's Defence Employer Recognition Scheme (ERS) in acknowledgement of the Trust's efforts to become a forces-friendly employer, with a promise to do further work to reach Silver Award standard in the future.
Chairman Alan Lockwood, said: "As an armed forces veteran it gives me great pleasure to sign this covenant. It highlights that we are forces-friendly, supporting the employment of reservists, armed forces veterans, including the wounded and injured, cadet instructors and military partners. I'd encourage armed forces veterans or those in the process of leaving the armed forces to look at our job opportunities as we strive to do all that we can to positively support transition into civilian roles, recognising the value of their skills and experience to the NHS."
The Government's Defence Employer Recognition Scheme is supported across the region by the Reserve Forces' and Cadets' Association for Yorkshire and The Humber.
Its Regional Employer Engagement Director Richard Lenton said: "The Armed Forces' Covenant is a great way for employers to show their commitment to the military and we are delighted to have RDaSH on board.
"We look forward to working with the trust as it develops its workforce in line with the covenant and delivers on the pledge it has made to treat the military fairly and with respect."