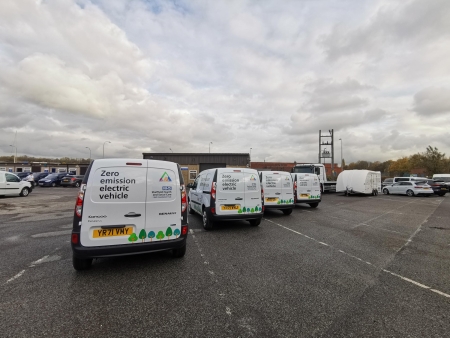 Sheffield Health and Social Care NHS Foundation Trust (SHSC) is replacing its old transport vehicles with state-of-the-art zero emissions in use electric vans.
The new vehicles are completely electric, meaning they won't pollute our streets with emissions or noise.
An electric van emits about a quarter of the CO2 of a conventional van, but because SHSC uses a renewable electricity provider, the carbon footprint of each van is even smaller, and comparatively tiny compared with the old diesels the vehicles are replacing.
The new vans replace existing diesel vehicles which had reached the end of their commercial use.
SHSC's new electric vans will take on much of the transport duties across the Trust which is particularly reliant on its transport services because it supports people at sites right across Sheffield over a roughly 10 mile radius.
Andrew Pigott, General Transport Manager said: We've been working to add zero emission electric vehicles to our fleet for some time now and I'm ecstatic to see the vans on the road. Our new Renault Kangoo vans are better for the environment, better for Sheffield as they don't add to the city's air pollution, and better value for money for the taxpayer too, as they cost less to run and will last longer than the old diesels they're replacing.
Phillip Easthope, Executive Lead for sustainability at SHSC, said: The NHS is committed to becoming carbon net zero by 2040. The Greener NHS national target aims to reduce the NHS carbon footprint by 80% by 2028-2032. Introducing clean, green, electric vehicles is one of the many proactive things we're doing to achieve that, safeguard our future and make Sheffield a healthier city to live in. We're looking forward to launching our Green Plan in the New Year which will set out how we will combat climate change over the next three years.