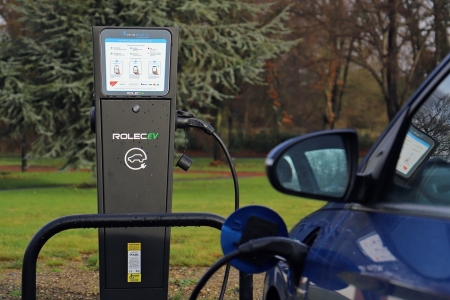 A NHS Trust that provides a range of inpatient and community services is doing its bit for the environment and creating renewable energy to charge electric cars.
Rotherham Doncaster and South Humber NHS Foundation Trust (RDaSH) has fitted solar panels in various locations throughout its sites, along with other energy saving measures in a bid to be more environmentally friendly.
Solar panels have recently been installed alongside electric vehicle charging points using electricity generated to charge vehicles. The first of these car charging facilities is located at the Trust's Tickhill Road Site in Doncaster.
Electric cars can be easily and conveniently charged using a mobile phone to access a pay-to-charge facility costing 16p per kilowatt/hour. This is the cost that the Trust pays on average for electricity and covers the cost for days when the solar power generated is low.
Paul Barratt, Head of Estates and Facilities said: "The Trust is proactive in looking at ways to reduce its carbon footprint. We have previously fitted charging facilities for electric vehicles within the Trusts fleet. However, with the increase in the use of electric vehicles we have now fitted chargers on the Tickhill Road Site.
One huge benefit of having the solar panels and the charging facilities is the positive impact it will have on the environment as more people want to charge their electric cars."
The Trust is also looking to introduce more electric vehicle charging points to its sites across Doncaster and also in Rotherham and Scunthorpe.