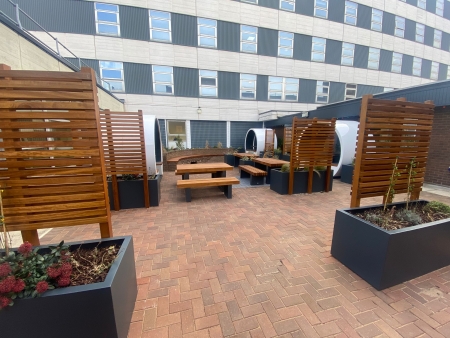 Barnsley Hospital Charity hosted the grand opening of a new wellbeing garden on Monday (February 14) to benefit staff and patients, in recognition of the tough challenges they all faced over the last couple of years during the Covid-19 pandemic.
The new garden is the result of consultation with staff and volunteers and has been supported by major donations from ASOS PLC and NHS Charities Together.
Ellie Orton OBE, Chief Executive of NHS Charities Together, said: "As the national, independent charity caring for the NHS, we are delighted to work with Barnsley Hospital Charity to support the new wellbeing garden, which will make a huge difference for staff and patients at Barnsley Hospital, providing a tranquil space to rest and reflect. We look forward to continuing our work together, helping the NHS go further."
Matt Rogers, Group Supply Chain Director at ASOS, added: "As Barnsley's largest private employer, we have a longstanding relationship with the town and its community, so we're thrilled to have been able to play a small part in giving back to the hospital's staff and patients by co-funding this project. It's been an absolute pleasure to visit the Wellbeing Garden today, and I'm really looking forward to hearing how the community benefits from this space going forwards."
The former old garden and seating which is outdoors next to the hospital's Collier's restaurant was 'tired' and weathered but has now been transformed with evergreen planting for all year-round colour, weather-proof covered seating and environmentally-friendly furniture.
Barnsley Hospital Charity Development Manager Jane Mills said: "We are delighted that we are able to support a new wellbeing garden at Barnsley Hospital. We undertook two informal consultations with our staff as to how we could best use funding to help them, and we are indebted to all our supporters who enabled us to provide this in response.
"Our staff have worked incredibly hard over the last two years and the garden will be a calm space for them to relax, re-charge and reflect on all their hard work and extraordinary efforts over this time. We have installed a plaque thanking staff for all their care and hard work, modern covered seating 'pods' and tree-themed artwork depicting the trust's values adding to the tranquil space. The transformation from the old garden with its tired wooden tables and benches is incredible."
Chief Executive Dr Richard Jenkins officially opened the garden at 11.30am on Monday February 14. Hospital staff and volunteers who were nominated for the Proud of Barnsley Awards 2021 and Non-Executive Directors were also in attendance at the opening ceremony.
The garden launch precedes a 'Virtual Health and Wellbeing Festival Week' from March 14-20. NHS staff, their friends, and families are encouraged to get involved in a wide range of sessions focussed on their health and wellbeing.
Organised by the Health and Wellbeing team at South Yorkshire and Bassetlaw Integrated Care System (ICS), a spokesperson said: "After what has been a very tough two years and an even tougher winter period, we hope that this week can provide some light relief for health and care colleagues in our region."
For more information relating to Barnsley Hospital please contact Helen Williams on helen.williams77@nhs.net or 01226 433854.