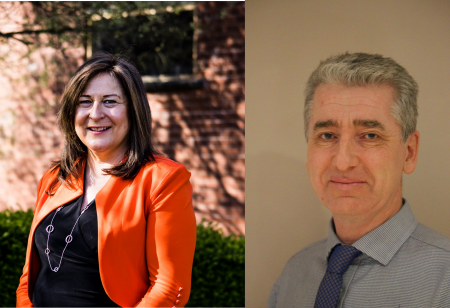 A South Yorkshire and North Lincolnshire NHS trust has welcomed a new Executive Director of Finance and Performance and new Non-Executive Director to its Board.
Ian Currell, of Holmfirth, currently the Chief Finance & Deputy Chief Officer at NHS Kirklees Clinical Commissioning Group (CCG), will join Rotherham Doncaster and South Humber NHS Foundation Trust (RDaSH) on August 9 as their new Executive Director of Finance.
Ian started out in the NHS as a graduate finance trainee and went on to work in a range of provider and commissioner organisations including as Director of Finance at NHS England area teams and Deputy and Acting Director of Finance at Calderdale and Huddersfield NHS Foundation Trust.
Ian replaces Steve Hackett, who leaves the Trust at the end of June to work at The Rotherham NHS Foundation Trust.
Pauline Vickers has also joined as their new Non-Executive Director, bringing extensive business and leadership experience at board level in a variety of executive roles. Pauline was recently Director of Royal Mail where she was also a member of Royal Mail Groups Diversity Council and Gender Steering Group. She has previous experience in the NHS, having been a Non-Executive Director at Bradford Teaching Hospitals NHS Foundation Trust.
Pauline started out educated at Prince Henry's Grammar School, Otley and went on to read Management Science at the University of Manchester Science and Technology, before gaining a Postgraduate Diploma in Personnel Training and Development at Leeds Metropolitan University.
On the appointment of Pauline, Chairman of RDaSH Alan Lockwood, said: "On behalf of the Board I warmly welcome Pauline into our Trust. She brings a wealth of experience to help benefit patients and our colleagues."
Kathryn Singh, Chief Executive of RDaSH, said about Ian's appointment: "I am delighted that after a national recruitment campaign we have appointed someone with such a broad range of expertise, experience and skills to join our executive team and Board. I know Ian will be a great addition to our team and we look forward to him joining us.
"I would like to also take this opportunity to thank Steve for his time at RDaSH and to wish him well in his new role."