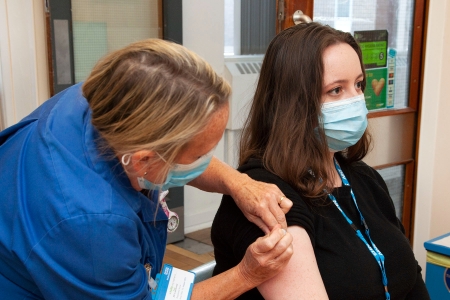 In an incredible 10 days, 3,510 nurses, doctors and other health professionals have received their flu jab at Doncaster and Bassetlaw Teaching Hospitals (DBTH), representing more than one half of the organisation's workforce.
The Trust, which runs three hospitals in the region as well as outpatient services at various community sites serving around 440,000 patients, is on a mission to vaccinate all colleagues directly involved in patient care and treatment. No stranger to tackling the winter illness, DBTH has been amongst the first acute NHS providers to vaccinate 75 per cent of front-line staff against the illness for the past number of years, and has this year outperformed its already speedy 2020 total when it took more than two weeks to reach the same number of colleagues.
Since beginning on Tuesday 21 September, the organisation's team of vaccinators have worked tirelessly in order to give medics and clinicians easy access to the vaccine. As was the case in 2020, the health provider is placing significant emphasis on this year's campaign as there is a potential for influenza, norovirus and COVID-19 to be circulating as the weather turns colder.
David Purdue, Deputy Chief Executive and Chief Nurse, said: "We've been overawed by the efforts of our vaccinators, as well as the enthusiasm shown by colleagues in receiving the jab. Team DBTH have been working hard in their fight against COVID-19, and as winter arrives we will begin to see cases of both flu and norovirus, in addition to the challenges presented by the pandemic. Therefore, it is vitally important that staff are taking the opportunity to protect themselves, their colleagues, and their friends, family and loved ones."
Throughout October, the Trust will plan further vaccination clinics for its remaining workforce to further reduce the risk of hospital patients contracting flu this winter, with an additional COVID-19 booster programme also planned in the coming days. Visitors can also help in the fight against flu and other winter illnesses by not coming to the Trust to see relatives and friends in hospital if they have flu and cold symptoms such as fever, chills, headache, cough, body aches and fatigue – in addition to COVID-19 symptoms. A full list of visiting restrictions can be viewed here: https://www.dbth.nhs.uk/coronavirus-need-know/
Flu can cause a range of illnesses from mild to severe, even among healthy people. People aged 65 and over, pregnant women, anyone with diabetes, chest or heart conditions and others in at-risk groups are advised to ask their GP about having the flu vaccine.​
Health professionals at the Trust are also urging local people to adhere to Government guidelines on COVID-19, particularly stressing the importance of hands, face and space.
David continues: "This has been a difficult year in many ways, but our communities have been outstanding in their support. Please continue a little while longer – wash your hands regularly, wear an appropriate face covering when necessary, and leave a two metre distance between yourself and others when out and about. Adherence to these three things will make all the difference this winter."