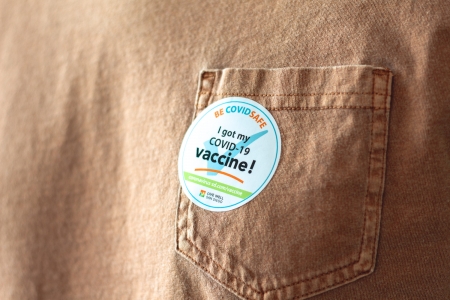 Local footballing legend Uri Rennie, the first black Premier League football referee, is publicly supporting efforts to overcome vaccine hesitancy in black communities.
Uri recently had his covid vaccination and allowed the cameras in, to film a video to encourage others to get vaccinated.
He said: "There is a lot of scepticism about the vaccine among black people, including members of my own family. They are wary of pharmaceutical companies because historically there have been instances of them using experimental drugs on black people that have resulted in deaths and they don't trust them. One recent case saw Pfizer reach an out of court settlement with parents in Nigeria who said a drug being trialled by the company caused the deaths of their children. These cases may have happened years ago, and in Africa, but the stories get passed down to black people living in Sheffield and create a lack of trust in the covid vaccination."
Before having the vaccine, Uri did his own research into how they were made and the clinical trials they underwent.
"Once I knew the vaccine was safe, I decided to not only have the vaccination but use my influence to encourage others to do the same because I want to protect my family and loved ones and want them to do the same by having the vaccination" he explained.
Uri is well known in local black communities and to football fans. He also works with a number of Sheffield charities and will now be showing people his video and speaking to them about his experience.
He said: "Now I've had the vaccine - without any side effects - not even a sore arm I am pleased to say – I can speak to them about what I've learned which is that the best way to protect yourself and those around you is to have the vaccine."
He plans to share a video of himself, asking his vaccinator questions about the safety of the vaccines and its ingredients, which he hopes will reassure people and encourage them to have the covid vaccine.
Alun Windle, Chief Nurse and Covid Vaccination Lead at NHS Sheffield CCG, said: "We've had excellent take up of the vaccine in Sheffield with over a quarter of a million people receiving their first dose, including the majority of eligible people from black and ethnic minority communities. However, the rates of vaccination among BAME communities are still lower than in the general population and we still have work to do, in asking them to set aside any past misgivings about safety. Having people like Uri coming forward and agreeing to work with us to address their particular concerns is fantastic and much needed. There is no time limit on having your vaccine so it's not too late to come forward and have the vaccine if you are eligible. You can call up to ask for an appointment any time."
Greg Fell, Director of Public Health at Sheffield City Council, said: "Looking at all the data, it is undoubtedly the good uptake of the vaccination programme that is really making a difference: saving lives and reducing transmission. The number of people seriously unwell with covid in our city hospitals has reduced substantially.
"All of the vaccines being used provide a good level of protection from covid and have been shown to be safe and very effective, with their safety continually monitored. I'm glad that most people are choosing to be vaccinated. It's an important part of helping us to get back to the things we love – including football!
"As always, I remind people, whether they have been vaccinated or not to remember hands, face, space and to allow ventilation indoors as much as possible."
If you are in an eligible group – meaning you are aged 42 or over, have a health condition that puts you at greater risk, a learning disability, a registered carer or are a health or social care worker – and you haven't booked your first dose yet the time to do so is right now. It's quick and simple to book at https://www.nhs.uk/conditions/coronavirus-covid-19/coronavirus-vaccination/book-coronavirus-vaccination/ or call 119.
If you are aged over 50, you have a health condition that means you're eligible for vaccination or you're a health and care worker, and you haven't been vaccinated or cannot get an appointment through the national booking system, speak to your GP surgery. If you're an eligible unpaid carer but you cannot book an appointment contact your GP surgery.
Uri's video can be found here https://www.youtube.com/channel/UCAaholHbjvtkNL9cTPDM6ZA