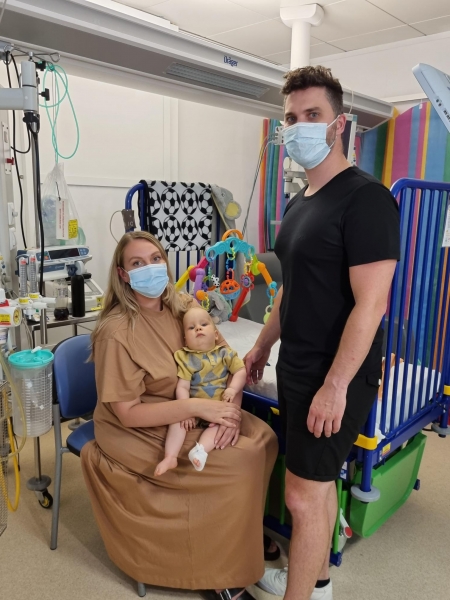 The mum of eleven month old Edward says "he has been given a future" after receiving gene-therapy for Spinal Muscular Atrophy.
Baby Edward came to Sheffield Children's to receive the potentially life-saving drug Zolgensma, which can prevent paralysis and prolong the lives of children with Spinal Muscular Atrophy (SMA).
Edward has Type One SMA. This is a rare and often fatal genetic disease that causes paralysis, muscle weakness and progressive loss of movement.
Zolgensma is a one-off gene therapy which can provide improvement in motor function for young children with a specific type of SMA and prolong their lives.
Edward's mum Megan said: "Zolgensma is a drug which gives him his future! The drug he's on already is incredible and we're so thankful for that too. However, this is a one-time infusion and we're so so grateful to be able to have this opportunity. Thank you Sheffield, for having us here and giving him the drug.
"Edward will always have SMA, but I'm excited for his future as we think this is the best treatment he can have. We were unsure about his future before, but after this we will like we can move on as a family, the possibilities are endless for Edward now, the world is his oyster."
Staff nurse Sally Roberts, who administered Edwards's infusion, said: "It's quite emotional and a big responsibility as a nurse, it'll help patients in their future and that's brilliant. We see patients with SMA regularly, and it's amazing that Sheffield Children's is able to offer it to these children."
Zolgensma is given as a one-off dose – this means a patient has a drip inserted into their vein to have the medicine infused over a period of one hour, just once. Edward was given the drug at Sheffield Children's Hospital and after staying in hospital for a few days will stay close by for post-infusion check-ups for about two weeks before going home. The expectation is that after receiving Zolgensma, Edward will have a better chance of sitting, crawling and walking, things that children with Type 1 SMA struggle to do at all.
Sheffield Children's is one of the four centres approved for the use of Zolgensma for the treatment for Type-1 SMA, Edward is the fifth patient to receive the drug at the hospital.
The Trusts will work together in collaboration with regional Neuromuscular Centres across the country, to share expertise and experience for this new therapy. Clinical teams at Sheffield Children's will assess patients individually for their eligibility and, alongside the family, consider whether treatment with Zolgensma is the best approach.
Sheffield Children's Hospital neuromuscular team has been at the forefront of treating children with Spinal Muscular Atrophy (SMA) since 2017, when a specific treatment named Nusinersen, a medicine injected into the spine to help SMA patients, was made available in the UK.
The dedicated neuromuscular team look after patients from South Yorkshire, Leicestershire, Nottinghamshire, Derbyshire and the midlands. They are experienced in many areas including respiratory and ventilation support, spinal management, therapy, metabolic bone and intensive care support, as well as counselling and supporting patients and families with this condition.
Jeff Perring, Medical Director at Sheffield Children's, said: "We are delighted to be able to offer this treatment to young patients affected by Spinal Muscular Atrophy. This treatment will really improve the quality of life for these children and we're proud to be part of this great advance in treatment using gene therapy."