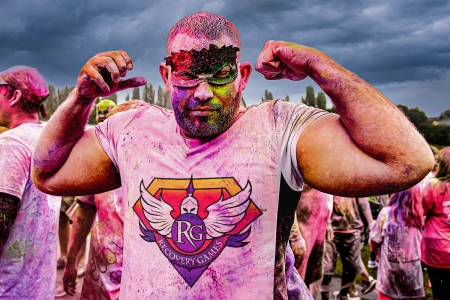 Doncaster's Recovery Games, one of the UK's largest events celebrating the successes of people who have beaten alcohol and drug addictions, will have an international flavour when it returns this month in a new 'virtual' format.
Cancelled in 2020 due to the pandemic, organisers have devised the Covid-beating format for this year's challenge, which will see 22 British teams take part, plus an international first with an entry from a group in Sarajevo, Bosnia, called Team Celebrate Recovery.
They all must complete five rounds of detailed challenges in their home-towns or cities before coming together virtually for a grand finale showcase to determine the winners.
Organised by Aspire Drug and Alcohol Service, which is managed by Rotherham Doncaster and South Humber NHS Foundation Trust (RDaSH) in partnership with Hull-based charity The Alcohol and Drug Service, the games' grand finale will take place online – via zoom - on Thursday 30 September, 2021, from 1.30pm to 5pm UK time.
The innovative event will be hosted from Canada by Peter Pula and Yvonne Hollandy from Axiom News, an organisation which actively promotes community-building and engagement activities around the world.
Aspire Senior Day Programme Lead, Neil Firbank, said: "This is the seventh Recovery Games and Covid has forced us to move away from our normal annual setting at Doncaster's Hatfield Activity Centre, where teams have gathered to compete against each other in a day of gladiator style games and obstacle courses. This year will still involve physical endurance plus mental agility and fun, the key difference being that each team will compete on its own turf and record their activities on a special website, with the highlights being shown at the grand finale.
"It's virtual, but it will still be highly competitive as every one of the teams taking part, is desperate to earn points, as they make prizes. We reckon the 23 teams will collectively have around 500 people involved, plus supporters, so the grand finale is expected to have a big, potentially world-wide, audience."
Teams are currently working through the five rounds of tasks they have been set and have until Tuesday 28th September to complete them and upload their evidence – by video or other means – to the Recovery Games 2021 website or Facebook page as appropriate.
The five rounds are:
The Virtual Big Quiz – 70 questions in total, against the clock, involving multiple-choice, open-ended and puzzles and should take around 30 minutes to complete.
Walk of the Warrior – six team members record the distances they cover with the prize going to the team that covers the greatest distance.
Challenge Scavenger Hunt – 10 activities to be completed in a two-week period, including a 'festival of colours' featuring the creative use of paint powders and a video recording or a positive message to the recovery community. Photographs have to be uploaded to the Recovery Games Facebook page and the number of likes each team receives will be converted into points.
Challenge the Recovery Row – three team members sit as if they are in a rowing boat and have to complete synchronised rowing motions for two minutes, with the number of full repetitions earning the same number of points.
Inspirado Connect resource – teams will compete against each other online for around one hour to earn 'recovery chips', based on sharing individual experiences of addiction and recovery. The number of chips each team collects at the end will be converted into points.
There will also be a bonus 100 points for the Best Themed Team. This has been hotly contested in previous years, with teams dressing up as the Flintstones, Pirates of the Caribbean and the cast from Grease.
The overall winner will receive the coveted Recovery Games trophy and a cash prize of £250, with the runner-up and third placed receiving £150 and £100 respectively. In addition, trophies will be given to the winner of each of the five rounds.
Aspire has funded this year's event through sponsorship as it has in previous years.
Aspire Manager Stuart Green said: "We have continued to provide drug and alcohol treatment solutions to Doncaster people throughout the pandemic by adapting our way of working to enable our colleagues and clients to stay safe and have now done the same for the Recovery Games. After cancelling last year's event we were determined not to have to do so again in 2021, so I'm really excited to see how the 23 teams have fared in this new virtual format."
Tim Young, Chief Executive of the Alcohol and Drug Service, said: "It is fitting that Recovery Games 2021 are taking place in September, which is National Recovery Month, with this year's theme being 'Recovery is for everyone: every person, every family, every community.' The solidarity and inclusiveness of the Games underlines this message so well. The teams may not be competing at the same venue but they are united by knowing that everyone's journey is different, but we are all in this together."
You can watch the Games on Eventbrite by following this link: https://t.co/uG1DPUXj7u?amp=1
If you, or someone you know, is struggling with a drug and/or alcohol addiction problem please visit the Aspire website www.aspire.community or ring 01302 730956.