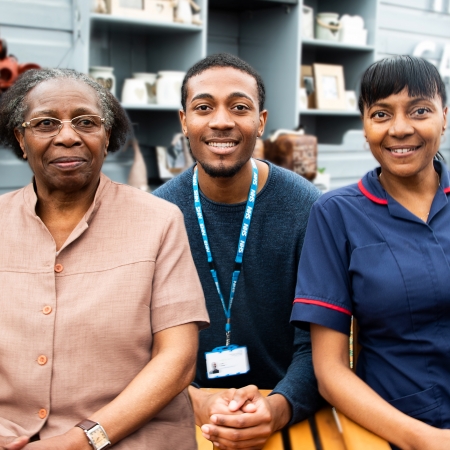 Rotherham, Doncaster and South Humber (RDaSH) NHS Trust is congratulating Clinical Studies Officer Louis Palmer, who has been named Researcher of the Year 2021 at the National black, Asian and minority ethnic (BAME) Health & Care Awards.
Louis (24) works with RDaSH's research team, Grounded Research, in its new Community Research Hub in the Tickhill Road site in Doncaster, where his main role is recruiting people with a BAME heritage to take part in research.
Even though one in six of all NHS staff are from BAME backgrounds - including one in five nurses and more than one in three doctors - the contribution of BAME staff is not fully represented in mainstream media and society. The National BAME Health and Care Awards recognises and celebrates the achievements of BAME staff and support networks from across the health and care fields in making significant improvements in career development support for BAME staff.
Louis was named Researcher of the Year at a virtual awards ceremony on 22 April. He was nominated with RDaSH colleagues Head of Equality, Virginia Golding, and Chief Executive Kathryn Singh.
Louis, whose mother and grandmother both worked for the NHS, said: "My family have the NHS in our blood, so to be nominated for this award was fantastic and I feel very honoured to have won. These awards show some of the progress being made to support BAME staff to thrive in health and care, and I'm pleased to play my part in increasing equality, diversity and inclusion for our colleagues and patients."
Kathryn Singh, Chief Executive at RDaSH said: "I was delighted to hear that Louis has won this prestigious award. The work Louis has undertaken in recruiting people with a black, Asian or minority ethnic heritage to take part in research has been fantastic. Louis is such a credit to our Trust and is inspiring a whole new generation of people to get more involved and to have their say. Well done Louis, we are all incredibly proud of you!"
With his family background, Louis knows more than most how much BAME people contribute to the NHS. Louis' grandma, Blanche Hines (82) left Jamaica in 1957 as part of the Windrush generation and started training as a nurse a couple of months later. During her long nursing career, she worked in hospitals in south and west Yorkshire - including a spell in charge of Tickhill Road Hospital's Elm Ward.
Blanche inspired her daughter Andrea Palmer (56) to follow her nursing career, and Andrea worked as a midwife at Doncaster Royal Infirmary, delivering many of the babies born at the hospital.
And now Louis, having studied for a neurosciences degree in 2017, is continuing the family tradition in Doncaster. A film produced by RDaSH's Communications Team about Blanche, Andrea and Louis can be seen on YouTube here https://youtu.be/dcD3McEX2ac