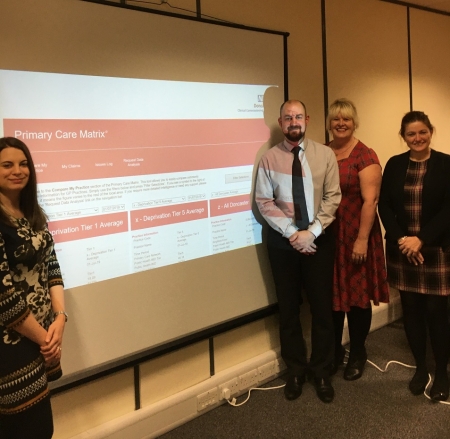 An innovative system led by NHS Doncaster Clinical Commissioning Group (CCG) to better understand differences in healthcare has been shortlisted for a top national award.
One of its kind, the Primary Care Matrix helps local practices better understand how they compare to other similar organisations across the borough.
The indicators could be anything from patient satisfaction, through to diagnosis and waiting times. Once a group of organisations have been identified, an analyst and clinician, usually a GP or nurse visit the local practice to understand why this variation occurs. The practice and CCG then look to see how they can work together to either reduce this variation or share the good practice with other local practices in Doncaster.
The Primary Care Matrix has been in place for two years and during this time, it has successfully helped a number of local practices to identify areas of opportunity and introduce processes to help reduce inequality. One local practice has used the Primary Care Matrix to increase its cytology screening rates, another has improved its communication with patients on which services they can access and others have shared best practice to increase the number of patients using online services.
Chris Empson, Programme Lead for the Primary Care Matrix at Doncaster CCG said: "We are delighted that the Primary Care Matrix has been recognised and shortlisted for this prestigious award.
"The Primary Care Matrix continues to grow and develop in conjunction with Practice Managers and clinical staff from practices across Doncaster with the shared goal of reducing inequality between local practices.
"We continue to receive positive feedback from local practices and we're in the process of sharing our approach with other CCGs in South Yorkshire and Bassetlaw."
The range of data available to local practices and support from colleagues at Doncaster CCG has been recognised by the Care Quality Commission as good practice and a highly effective way to ensure local practices can benchmark themselves against their peers, driving potential improvement.