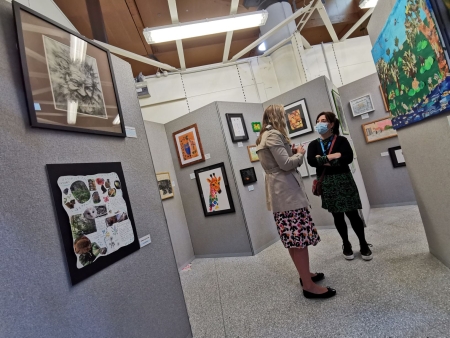 The free exhibition features artwork by people from Sheffield with lived experience of mental health conditions. It's open daily at the Moor Market, finishing on Saturday 16 October.
The exhibition is a joint project between Sheffield Health and Social Care NHS Foundation Trust (SHSC) and Sheffield Flourish, a mental health charity working in the city.
This year, the theme for the exhibition is 'urban nature'. The organisers asked people to submit artworks that related to their ideas of the sometimes-unseen natural world within the city environment.
The exhibition is taking place in the second week of SHSC's annual arts festival. The first week saw special events for service users across the Trust, including sessions with music, dance, painting and collage. Several works on display at the Urban Nature Exhibition have been created by SHSC service users.
You can follow the Arts Festival on Instagram at @SHSC_nhsft, or by using #SHSCArtsFestival.
The exhibition is also available to view online via the Sheffield Flourish website: https://sheffieldflourish.co.uk/urban-nature-2021-online-exhibition/
Soo Boswell, Arts in Health Coordinator at SHSC and Arts Festival lead, said: The COVID-19 pandemic and lockdowns that followed it forced many of us to take a fresh look at our local environment. For many of us, including service users at SHSC, this has meant discovering the natural world in the urban spaces which many of us live. I'm really pleased we can show off some of these new takes on our wonderful city in our Urban Nature exhibition.
Jo Hemmingfield, who works at SHSC has lived experience of mental health said: Art is a powerful medium that can help to express thoughts, ideas and feelings that we might find impossible to communicate verbally. The Urban Nature exhibition is full of vibrant expressions by wonderful artists in our community, it's well worth a visit!