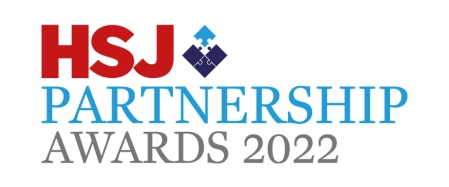 NHS Professionals International and the South Yorkshire & Bassetlaw ICS (SYBICS) were delighted to be named finalists for the HSJ Partnership Awards 'Staffing Solution of the Year' category, an achievement celebrated at a glittering London ceremony held last night (24th March 2022).
International nursing recruitment has an important role to play in helping the UK meet its nursing recruitment targets – and a vital place on ward floors throughout the country.
For the SYBICS region, international recruitment has brought hundreds of new nurses to the hospitals and wards across five individual acute Trusts. This has supported the Trusts within SYBICS, delivering tens of thousands of patient care hours and saving the Trusts substantial money against external agency spend.
Throughout the year, the initial nurse cohorts have been joined by midwives, community nursing and mental health professionals. This has helped to support safe staffing across multiple areas of need throughout the region.
Hadrien Kieffer, Director, NHS Professionals International, said:
"I am delighted that our collaboration with SYBICS has been recognised with a coveted 'Finalist' nomination for this prestigious award.
"We have worked exceptionally closely with the teams in each SYBICS Trust to understand their needs and adapt our approach to meet the unique local challenges faced.
"Importantly, the SYBICS team ensured that the whole community was ready to welcome the nurses – whether by creating links with local nursing associations or organising nights out at Sheffield Steelers' ice hockey games!
"I have no doubt that this special partnership working model, with examples of innovative, compassionate practice on both sides, resulted in us reaching the final for this prestigious award."
Professor Chris Morley, Chief Nurse, Sheffield Teaching Hospitals NHS Foundation Trust said:
"Working collaboratively to recruit from overseas to nursing roles across South Yorkshire and Bassetlaw makes sense as we all have similar needs and risked fishing in the same pond and theoretically competing against each other for nurses.
"Getting a high number of compassionate, highly skilled nurses at best value for money by working together was key, along with ensuring we provided a consistent, welcoming onboarding experience for our overseas nurses.
"We have recruited over 400 nurses to date and they have quickly become an integral part of the team here at Sheffield Teaching Hospitals. It is fantastic that this partnership has been recognised as a finalist in these HSJ awards."
International recruitment has been put under significant pressure, thanks to the unprecedented demands of the pandemic. The results from NHS Professionals International's collaboration with SYBICS are now being shared across the NHS, enriching international recruitment throughout the healthcare system. For more information about NHS Professionals International, please view their dedicated webpages: https://www.nhsprofessionals.nhs.uk/partners/our-services/international-recruitment
Information about SYBICS can be found through their website: https://syics.co.uk/