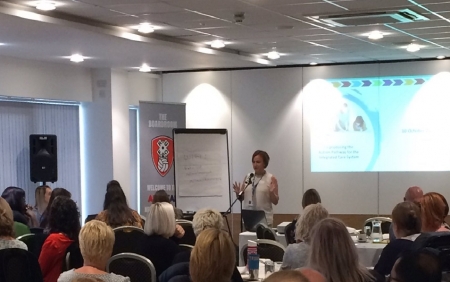 People with autism and their families took part in a workshop at Rotherham United Football club on World Mental Health Day.
The event was organised by South Yorkshire and Bassetlaw Integrated Care System to give those with autism and their carers the chance to work with representatives from the NHS, social care and the community and voluntary sector to design and improve the support they receive. There were over 80 delegates that attended the event which included a wealth of knowledge and expertise and led to some really good discussions and debates.
At the event experiences were shared by those living with autism and carers and family members talked about how autism affects their everyday lives. There were some really powerful stories shared and much learning to take from them, both positive and negative.
Rachel Gillott, from SYB ICS said: "We have an ambition for South Yorkshire and Bassetlaw to improve the support for people and their families living with Autism and to become an Autism Friendly ICS. Throughout the day people made pledges and shared ideas on what we can do to achieve this. Our philosophy is that everyone across our region should have access to the support they need and that includes those who live with autism."
We explored what improvements could be made to the lives of people with autism across a range of issues from Education to Employment and other important aspects such has physical health and mental health wellbeing. In addition, Doncaster Smile Thai Massage gave a taster Tai Chi session, an approach to wellbeing and relaxation, which was a roaring success and had everyone participating.
One parent, who attended the event at the New York Stadium on Thursday, said: "If sharing our story can help even one family have a better experience than ours that would be amazing." Another parent quoted "you made a huge difference for autism today and I personally wanted to say thank you and VERY well done"
---
Living with Autism - Healthcare Experiences of Patients and Carers