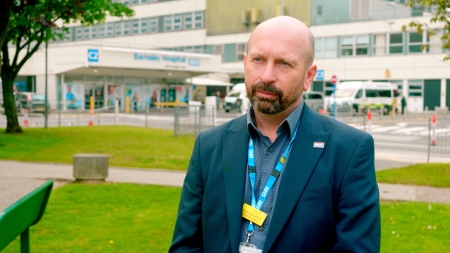 A groundbreaking stop smoking programme, which has the potential to save up to 2,000 lives and 4,000 hospital readmissions a year, has been launched across South Yorkshire and Bassetlaw.
The QUIT Programme is being delivered by South Yorkshire and Bassetlaw Integrated Care System (SYB ICS) in partnership with Yorkshire Cancer Research, five local authorities and local Stop Smoking Services.
Based on evidence from successful smaller schemes in Ottawa and in Greater Manchester, QUIT is the largest project of its kind in the world and will transform the way smoking is tackled by the NHS in the region.
Rather than seeing smoking as a lifestyle choice, hospital staff across eight NHS Trusts in South Yorkshire and Bassetlaw now recognise it as tobacco addiction – a medical condition they have a responsibility to treat as part of patients' routine hospital care.
So, every hospital patient in the region over the age of 12 years who smokes will now have access to nicotine replacement treatments (NRT) and specialist stop smoking support during their hospital stay from 45, trained Tobacco Treatment Advisers funded by Yorkshire Cancer Research.
Community-based stop smoking services will play a key role, ensuring medication and support is continued after patients leave hospital to give them the best chance of beating their tobacco addiction.
Dr Richard Jenkins, Chief Executive of Barnsley Hospital NHS Foundation Trust and Senior Responsible Officer for the QUIT Programme said: "We know that smoking is the single greatest cause of preventable death, disability and illness so the QUIT initiative makes perfect sense – especially when it is our job as health professionals to reduce harm to health.
"We spend over £26m a year on smoking-related hospital admissions in South Yorkshire and Bassetlaw. QUIT has the potential to save thousands of lives and hospital re-admissions here.
"By treating tobacco addiction, we will save lives, decrease inequalities in health and save the NHS money that can be reinvested in new services."
Nearly 200,000 people smoke in South Yorkshire and Bassetlaw - more than half of those will die prematurely from smoking-related illness, losing on average 10 years of life.
It is hoped the systematic, region wide approach to actively treating tobacco addiction will help bring smoking rates down to below 10 per cent by 2024, saving thousands of lives.
Yorkshire Cancer Research have provided £1.8m in funding to support the QUIT Programme and Chief Executive Dr Kathryn Scott said: "It is estimated that 1,350 cancers diagnosed in South Yorkshire every year are caused by smoking. The QUIT Programme will help Yorkshire Cancer Research reach unprecedented numbers of people in the region with the support they need to stop smoking for good, reduce their risk of premature death from a wide range of smoking-related cancers and save countless families from distress and heartbreak."
The first Yorkshire Cancer Research funded Tobacco Treatment Advisers are now in post at Barnsley Hospitals NHS Foundation Trust and Rotherham Doncaster and South Humber NHS Foundation Trust (RDaSH).
QUIT forms the first part of a broader Healthy Hospitals Programme across South Yorshire and Bassetlaw and is also a key strand of the local Tobacco Control Alliances' plans.
The Programme will also offer advice and support to parents of child patients who smoke and all NHS staff who smoke will have access to NRT treatments and specialist support. Every hospital site in the region is working towards being completely smoke-free.