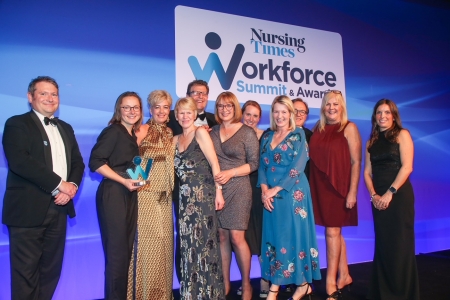 South Yorkshire and Bassetlaw Integrated Care System (SYB ICS) has been recognised with a top industry accolade for its 'collaborative approach' and 'innovative solution' to supporting, developing and coaching newly qualified nurses.
The Primary Care Workforce and Training Hub team's Vocational Training Scheme scooped the award for 'Preceptorship of the Year - Under 1,500 Nursing Staff' at Wednesday's (17th November) prestigious Nursing Times Workforce Summit and Award ceremony attended by over 500 nurses and programme leaders from across the health and care community at The Brewery in London.
The judges praised them for "A well written and excellent submission. Responsive to a workforce need, with excellent multi stakeholder engagement across the system that was seen as exemplary. It demonstrated multi organisational collaboration - and was both operational and strategic in approach. A clear winner".
Louise Berwick, Programme Manager of Primary Care Workforce and Training Hub, said: "This is fantastic recognition and a real testament to the whole team. The judges were impressed by our collaborative approach and innovative solutions for bringing in and retaining nurses – ultimately meeting a real need in the primary care workforce – we couldn't be prouder.'
A preceptorship is a defined period of time (typically six months) where all newly qualified practitioners are supported make the transition from student develop their practice further under the guidance of an experienced practitioner – a Preceptor).
Around 65 nurses will have passed through the training scheme by September 2022 – all being supported to make the transition from student through their first year and beyond.
Ben Chico, South Yorkshire and Bassetlaw Workforce Transformation Lead, said: "This is a fantastic achievement for the team in supporting the Primary Care workforce, which is a priority for our system".
The SYB ICS team were also recognised as finalists on the night in the 'Best International Recruitment Experience' category. This was recognition of a partnership between SYB ICS and the NHS Professionals International (NHSPI) which saw hundreds of international nurses arrive safely in the region during 2020/21 despite the challenges of the pandemic.
NHS Professionals Internationals' Director, Hadrien Kieffer, said: "I'm very pleased that our work with SYBICS was recognised by being made a finalist for this prestigious award.
"The past year has forced us all to think differently. I'm very proud of everyone in our international recruitment team who truly went above and beyond expectations, helping the international nurses to arrive and settle in as quickly and safely as possible.
"I look forward to continuing to work with our partners in SYBICS for many years to come!"
In their fourth year, the awards aim to celebrate those making a difference in nursing recruitment, retention, wellbeing and inclusion.
The guest speaker at the event, which was held in London after being held virtually in 2020, was the chief executive and registrar of the Nursing and Midwifery Council, Andrea Sutcliffe with the ceremony covering 15 categories recognising organisations going above and beyond to recruit and retain their nursing workforce. There were deserving winners from organisations across the UK.
Editor of Nursing Times and the host of the awards, Steve Ford said:
"These awards are about celebrating nursing's workforce achievements, highlighting the brilliant work carried out by individuals and teams, after what has been, and continues to be, an incredibly difficult period for the profession due to Covid-19 and enduring staff shortages among other challenges.
"Congratulations to all our finalists and to our winners across our 15 categories at the 2021 Nursing Times Workforce Awards."
You can find the full list of winners from the awards here: workforce.nursingtimes.net/2021-winners