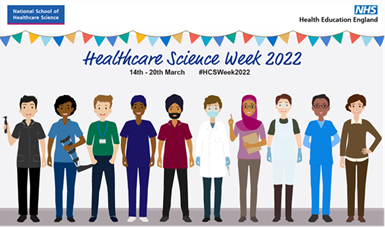 Today we have a life sciences focus & many of you will be aware this week IBMS congress (the Institute of Biomedical Science) is in full swing.
It has been great to see @SheffLabMed Tweets and see many of our STH staff presenting. Prof Graeme Wild, Clinical Scientist has been presenting today giving the latest updates on immunology, and yesterday Dr Steve Kitchen and Dr Annette Bowyer on COVID and haemostasis. A congratulations to Dr Jonathan Bury who has been appointed as Clinical Director for the new South Yorkshire Single Pathology Service. With around 50% of our Healthcare Science Staff in Life Sciences, today we have a personal message from Debra Padgett, IBMS President as part of our Healthcare science week celebrations & Debra said,
''It is estimated that science and technology contribute to at least 80% of patient diagnoses, with over 50 NHS healthcare science specialisms This year gives us the opportunity to thank and celebrate the work of Biomedical Science teams across the UK not only in response to the pandemic but to all testing carried out within our Pathology laboratories.
"Whilst the pandemic has been devastating for so many it has afforded us the chance to demonstrate what we are capable of as a profession. I have never been as proud of the profession, and to be a Biomedical Scientist, as I am today. I am honoured to serve as President and, as we celebrate the achievements of the last two years, I look forward to further success in 2022 and beyond. I have been amazed by the sheer determination, commitment and expertise on display every day from our Pathology workforce and would like to take the opportunity afforded by #HCSWeek2022 to shine a light on the incredible work of biomedical scientists working in healthcare to local communities, other healthcare professionals and students.
Hope you all enjoy celebrating and we'd love to hear how you and your team are engaging with Healthcare Science Week using the hashtag #AtTheHeartOfHealthcare on social media.
You can catch up with all the latest from IBMS here: IBMS Congress 2022