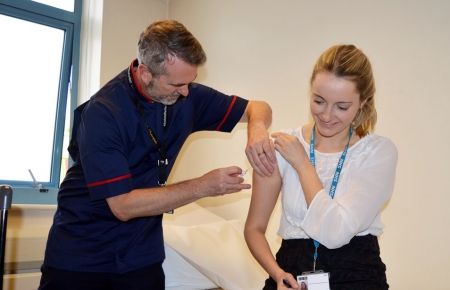 Over 3,000 nurses, doctors and other health professionals have volunteered to get their flu jab at Doncaster and Bassetlaw Teaching Hospitals (DBTH) in a single month.
Another supply of vaccinations will arrive later this month which will bring the cumulative figure of colleagues vaccinated to over 4,000.
The organisation's team of volunteer vaccinators has visited wards and departments to give medics and clinicians easy access to the vaccine.
The Trust, which operates Doncaster Royal Infirmary, Bassetlaw Hospital and Montagu Hospital, is on a mission to vaccinate all colleagues directly involved in patient care and treatment.
DBTH has been amongst the first acute NHS providers to vaccinate 75 per cent of front-line staff against flu for three-years running.
David Purdue, Deputy Chief Executive and Director of Nursing, Midwifery and Allied Health Professionals, has also gotten involved in the campaign, vaccinating staff and also the Trust's Chief Executive, Richard Parker OBE.
David said: "Last year, we vaccinated around 4,000 members of staff, with our vaccinators named 'Team of the Year' by NHS Employers for their efforts. I am confident that we're on course for another successful flu vaccination campaign, which, importantly, will help us to reduce the impact of the flu virus both in our hospitals and in the communities we serve."
Throughout November, the Trust will continue to vaccinate its frontline workforce to further reduce the risk of hospital patients contracting flu this winter. Visitors can also help in the fight against flu and other winter illnesses by not seeing relatives or friends in hospital if they have obvious cold symptoms such as fever, chills, headache, cough, body aches and fatigue.
Flu can cause a range of illnesses from mild to severe, even among healthy people. People aged 65 and over, pregnant women, anyone with diabetes, chest or heart conditions and others in at-risk groups are advised to ask their GP about having the flu vaccine.​