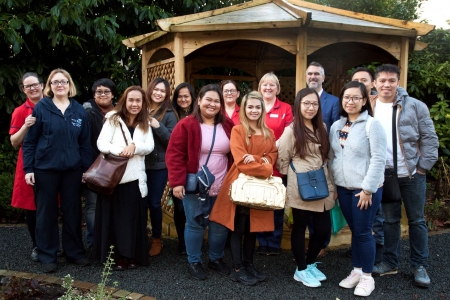 A cohort of 10 qualified nurses have recently joined Doncaster and Bassetlaw Teaching Hospitals (DBTH) from the Philippines.
The clinicians started their first placements at Doncaster Royal Infirmary on the 13 January, across a number of different specialties including renal medicine, diabetes and endocrinology and general nursing.
Having trained and qualified in the Philippines, the cohort is currently undertaking an assessment which marks them against the Nursing and Midwifery Council standards for Registered Nurses in the UK. Following this, the nurses will be registered and able to practice.
Angela Lawas will be working with the team on Ward 32 at Doncaster Royal Infirmary, she said: "Even though I was apprehensive on the way over here and it's different to where I've worked beforehand I'm really excited to be here. Doncaster seems like a great town and the hospital is much larger than I expected with a lot of facilities. I can see myself settling here long-term and maybe even retiring here."
Overseas recruitment is one of the Trust's approaches to providing a stable workforce to ensure quality services and care for its patients. Recruiting and retaining substantive employees also reduces the amount the Trust spends on agency cover. The money saved can be reinvested into patient care and facilities.
David Purdue, Director of Nursing, Midwifery and Allied Health Professionals at the Trust, said: "On behalf of everyone at the Trust I would like to welcome our newest members of the team. We are grateful that they have chosen Doncaster to come and develop their careers and we're sure they will be invaluable in supporting us to deliver the best possible care for our patients."
With over 6,600 members of staff, of which around 2,000 are nurses, midwives and allied health professionals, long-term recruitment is a focus for the Trust. As such, the organisation is also working closely with Hall Cross Academy in Doncaster to offer school pupils experience, guidance and opportunities into careers in health in order to inspire and encourage the next generation of healthcare workers.
Another cohort of ten nurses will be joining the Trust in February with a further eight to be interviewed later in the year.